48 YO gay free roaming in nature, Smyrna, GA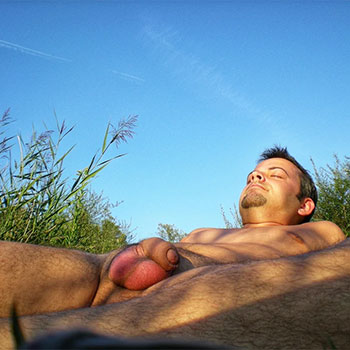 Bathing and soaking in the sun, day dreaming of my next fuck date. I am living a good life. Free of any attach. No kids, wife, or boyfriend. I am a proud and happy gay man. Believe me, I've tried dating. I even tried being in an open relationship, but it was not for me. Nothing compares to free-roaming as a single man. I've lived like that for so long now. And it won't change now that I am nearing my 50s (I am 48). While we're at it, my nickname is FreeRoamer. Being so confident and stress free seems to be working too. I mean, in terms of attracting guys. People from youngsters to to older folks can't resist my lay down attitude.
Especially if they see me naked with my big balls enjoying the few rays of sunshine piercing the shade of a tree in a non disclosed area not too far from Smyrna, GA. Or, in the country outside Atlanta. I won't tell you where it is before we get to chat in private and I decided you're serious enough. And by that I mean, committed to joining me for a casual hookup. Must be my Southerner blood, but I don't get the urge and the stress surrounding sex. It would be my pleasure to just lay down naked in the grass with you. Teasing each other, enjoying a few drinks before jumping on each other. Of course, with such an attitude, you could expect me to be a versatile. Well you're indeed correct !
Click here to date FreeRoamer